ILLUMINATING PANTONE COLOURS OF THE YEAR 2021
Image Source: © Seana Redmond
For just the second time ever, the Pantone Color Institute has named not one but two colors of the year: PANTONE® 17-5104 Ultimate Gray, a calming shade that brings to mind stable concrete foundations and serene pebbled beaches and PANTONE 13-0647 Illuminating, a bright yellow that evokes warm sunshine, the invigorating bite of a tart lemon and cheerful spirits. That is why, according to the color experts, sunshine and strength are on the fashion forecast for this new year.
The combination itself makes a strong statement. The choice to include two colors this year was influenced by the pandemic and events like the Black Lives Matter protests of 2020. After a year when social distancing became par for the course and people organized en masse across the nation to call for racial justice, the importance of connection is at the forefront of many people's minds. According to Laurie Pressman, vice president of the institute, this essential need for relationships is mirrored in Pantone's decision to select two colors this year, which has only been done once before (in 2016, when the institute selected Rose Quartz and Serenity as a nod to the increasing fluidity around gender norms).
The pandemic affected the process of selecting this year's color, as well. While the researchers at the institute usually spend the year traveling to research color trends around the world before making their choice, the health and safety restrictions surrounding COVID-19 meant their approach this year looked a little different—more collaboration online and a reliance on local staffers worldwide to report on trends.
The the goal in selecting the color of the year remains the same as in past years: to reflect the culture of the moment of time we're living in. 2021's colors feel altogether fitting as we prepare to welcome a new year brimming with possibilities: for a vaccine, for the world to open up again, for a return to some sense of normalcy—and the chance to connect.
Eiseman's chosen color trend duo for 2021 is ultimately about conveying unity. "Over the years, Pantone has done a lot of research on how people react to color," she adds. "We know there is a universal reaction to both 'Ultimate Gray' and 'Illuminating'. Even the names of the colors reveal something about them that people immediately identify with." "We see the light at the end of the tunnel," concluded Pressman. "We just have to carry the resilience, strength and serenity that 'Ultimate Gray' signals into 2021. "We have to be patient, optimistic and aware that we will make it."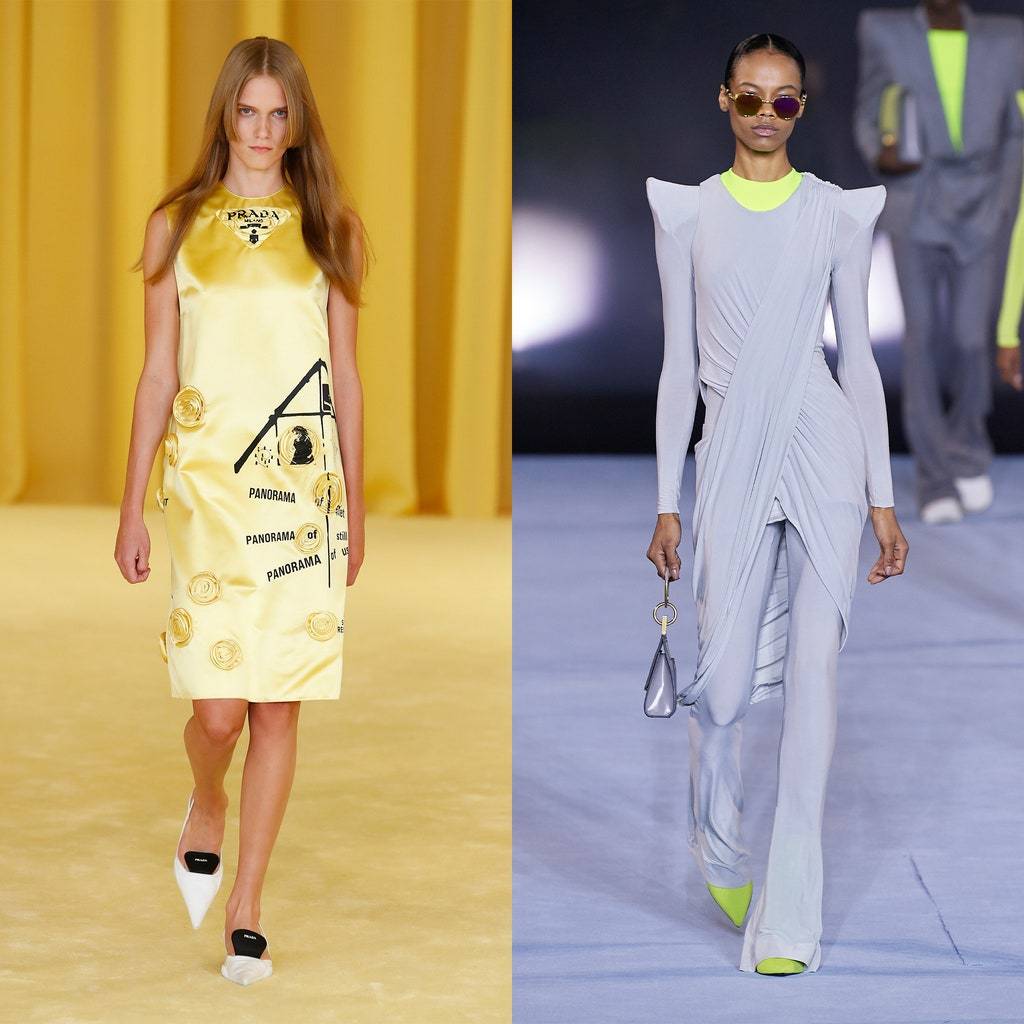 "Illuminating" (yellow) and "Ultimate Gray" on the runways of Prada (left) and Balmain. Font: Vogue Germany
Ultimate Gray (Pantone 17-5104) is about strength and resilience. "In nature, it's the color of the pebbles on the beach, the rocks and stones that have been around for millions of years and that won't go away anytime soon. Gray stands for strength; something to hold onto, and always for you will be there. "
There is also a direct link to fashion: people lived in gray sweatpants, referring to the comforting properties of the fashionable antihero 2020. "We won't spend the rest of our lives in them, but it matters that we have learned to make peace with them and what they say about our lifestyle in 2020. "
In 2021 another color will join "Ultimate Gray", which also aims at the feeling of continuity that we take from the natural world: "Illuminating" (Pantone 13-0647), the exact color of the carpet on Prada's spring / summer catwalk 2021. It is a bright yellow, always associated with sunshine.
From a fashion standpoint, everybody's got some degree of gray in their closet. "We've always known it to be that stable reliable color, but we've softened it a little bit. We've lightened it a little bit, and added the yellow," Eiseman said. "If you've been living in gray sweats [during the pandemic. You may think,] 'Wow! Maybe I need something to brighten it up. Maybe that will cheer me up, lift my spirits.'" Using the colors for apparel and fashion accessories can convey a message of sunshine and strength when 'Illuminating' is punctuated by a touch of 'Ultimate Gray'. Pantone adds that 'Ultimate Gray' provides a "great bouncing off point" with 'Illuminating' "bringing in some brightness" by way of a scarf, footwear, handbag, tank tops. 'Ultimate Gray' and 'Illuminating' are a great combination for activewear, like leggings and sweats, due to its combined "energetic presence," while the "high visibility contrast" also makes the two colors appeal for outerwear.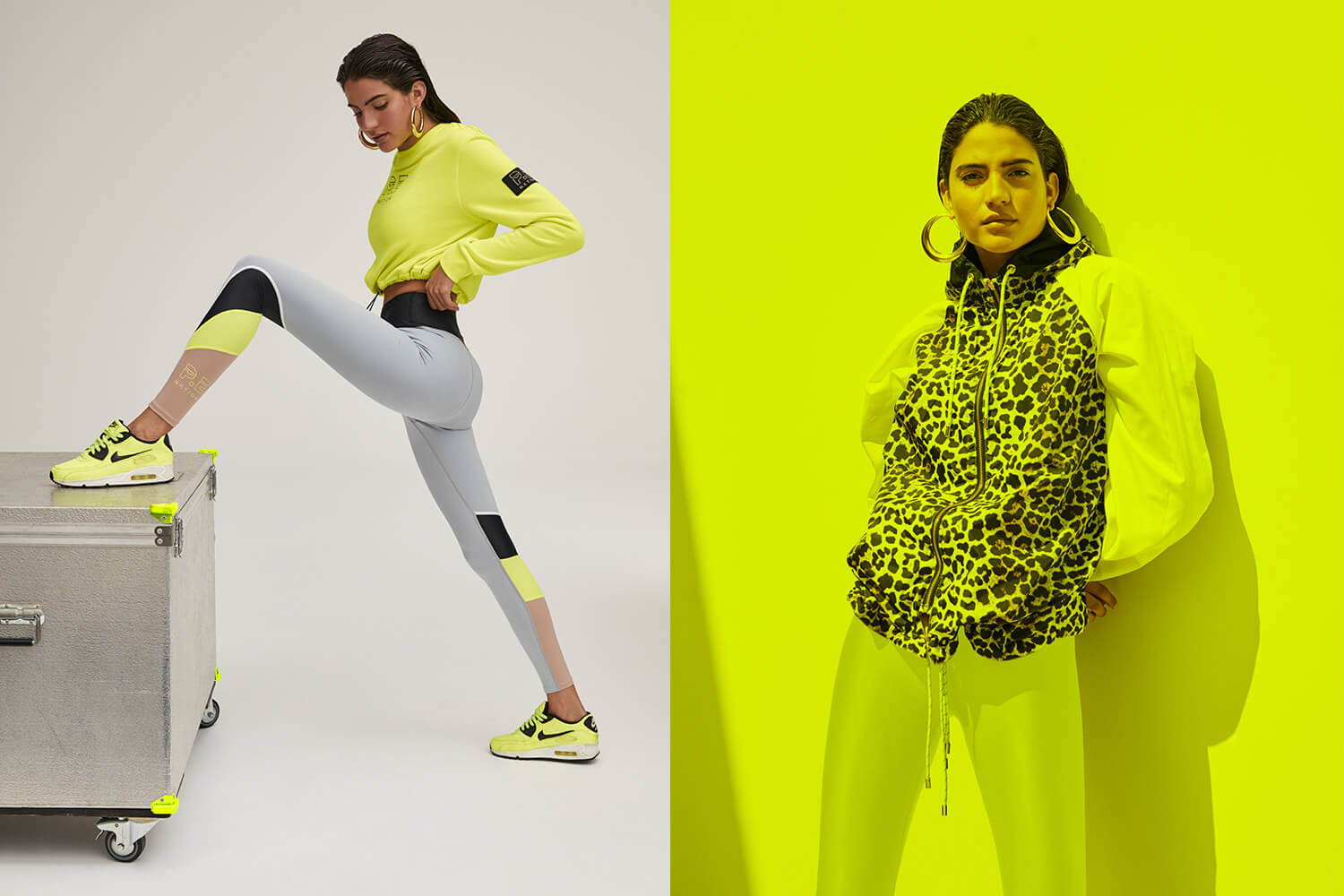 Source: P.E Nation x Kith Collection
Ultimate Gray (Pantone 17-5104)
Which designers are doing grey in 2021?
Dior, Hermès, Jacquemus, Varley, MZ Wallace, Electric and Rose, Alo Yoga, Onzie
Gray must-haves:
The Grey Blazer
The iconic grey blazer proves that timeless doesn't have to mean boring in 2021. The standout of the season came from Kim Jones' Dior, where the classic sport coat was deconstructed and recreated as a tailored vest with the sleeve fabric slung over the neck as a makeshift scarf. Other memorable pieces include Jacquemus' boxy and asymmetric suiting with oh-so-cute heart cutouts, and short sleeved and cropped renditions at Jerry Lorenzo's Fear of God. Invest now and you'll have a dependable cross-season and day-to-night transitional piece for years to come.
Pairs well with…
Black, yellow, cream and white.
What to buy to get ahead of the trend…
Illuminating (Pantone 13-0647)
Which designers are doing illuminating yellow in 2021?
Prada, Balmain, Valentino, Altuzarra, Alo Yoga, APL, HAAN, LES by SPORT.LES
Yellow must-haves:
The Illuminating Yellow Set
An irresistibly sexy set at Altuzarra featured a wrapped-bandage top that showed off quite a bit of midriff, paired with a body-hugging skirt with a slit that could be adjusted with the help of pearl buttons. There was a casual, 'summer-in-California' feel to a set at Jason Wu.
Pairs well with…
Black, yellow, cream and white.
What to buy to get ahead of the trend…
---
New Year's Resolutions You Should Actually Keep

Author SPORT.LES / Published: December 2020
Continue reading