CREATE YOUR OWN HALLOWEEN COSTUME (WITH ACTIVEWEAR OF COURSE)

CREATE YOUR OWN ACTIVEWEAR-HALLOWEEN COSTUME

Author SPORT.LES / Published: Oct-22-2019
NEXT WEEK IS ONE OF OUR FAVOURITE DAYS FOR DRESSING UP, HALLOWEEN. AND WE WANT GIVE YOU A COUPLE OF GREAT IDEAS ON HOW YOU CAN EASILY CREATE YOUR OWN HALLOWEEN OUTFIT
Catwoman has been portrayed in movies as well as in TV series. Moreover, her suits have been featured below in our guide. Let us have a look at those amazing attires of all time. For us is an annual favorite and very easy to create. Get your black sports bra and legging with animal print design or vegan leather fabrics, and you're almost done.
1. Buy or make a Catwoman headpiece - Possibly the most important part of Michelle Pfeiffer's Catwoman costume was her headpiece -- a black PVC half-mask with cat ears. In order to achieve an authentic-looking headpiece, it may be best to buy a replica mask off Amazon or eBay.
2. Black Shiny Leggings -  Try it with the new Onzie's Leggings, with animal print in black featuring a shiny effect.
3. Sparkle Sports Bra or a Shoulder Sweater - Make and statement wearing the Heroine Sport's Shoulder Sweater or the Aerial Bra from Onzie with shiny glitter at the back to make your costume unique!
4. Black leather boots - Wear the costume with a pair of heels, sneakers or black leather boots.
Finish with red lipstick make up and... perfect!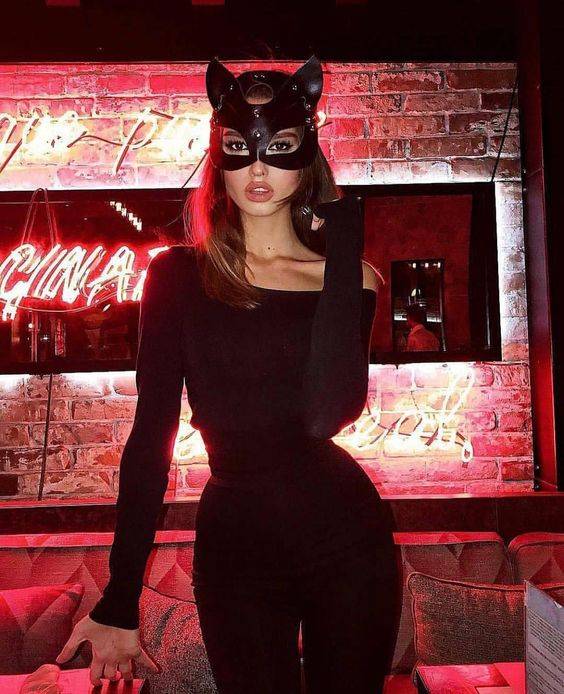 Ever since the movie Avatar was in cinemas in 2009 Neytiry has become a popular character for dressing up.
1. Feather necklace - Braid hemp string and add bunches of feathers with beads
2. Leggings & Sports Bra - Wear the most comfortable leggings from Heroine Sport, with the Blue Spark at the bottom of the leg. And matching with the designer's shiny sports bra.
3. Tail - Paint stripes on fabric, sew and flip inside out, stuff with fluff (keep extra poking out at end), bend hanger and put inside, sew closed, glue rhinestones, pin to unitard
4. Accessories - use shiny brown material to make upper arm band, 2 wrist cuffs (one is small and one goes to the elbow). Make all slightly different - scrunch some fabric, keep some smooth, add texture/ turn inside out for matte color, etc. Add bronze gladiator heels, complete with blue toe nail polish.
7. Face - Use face paint in light and dark blue. Mix with Liquiset and sponge on light blue over entire face, neck, and chest. Add stripes with a flat paintbrush, pointing towards the nose. Use blue eye shadow to contour eyes and black liquid liner for cat eyes.
Try it yourself!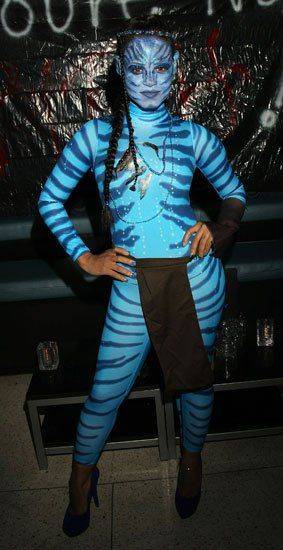 3. HEIDI KLUM AS JESSICA RABBIT

Heidi Klum is known for her over the top spectacular Halloween outfits. One of our favorites was Jessica Rabbit. Let's get more sporty with an activewear inspirational Jessica Rabbit:
1. Vaara Red Set - if you prefer to wear leggings instead of a red dress, you can! Wear the matching Tuxedo Leggings and Nova Cross-Back Sports Bra from Vaara and be the queen of your Halloween party.
2. Glossy Makeup - rep your skin with a moisturiser and apply a face oil for natural sheen. Put some purple, pink and red smoky make up in your eyes. Apply liquid highlighter on high points of face to achieve the clear, glossy look.
3. Long purple gloves - Jessica is best known for wearing long, purple gloves, but has also been drawn from time to time in blue, black, and red gloves as well. The choice is yours.
4. Red Wig - With the red dress taken care of, you'll need red hair. If you're a natural redhead, then you're already done. Otherwise, you'll need a red wig to emulate Jessica Rabbit's hair.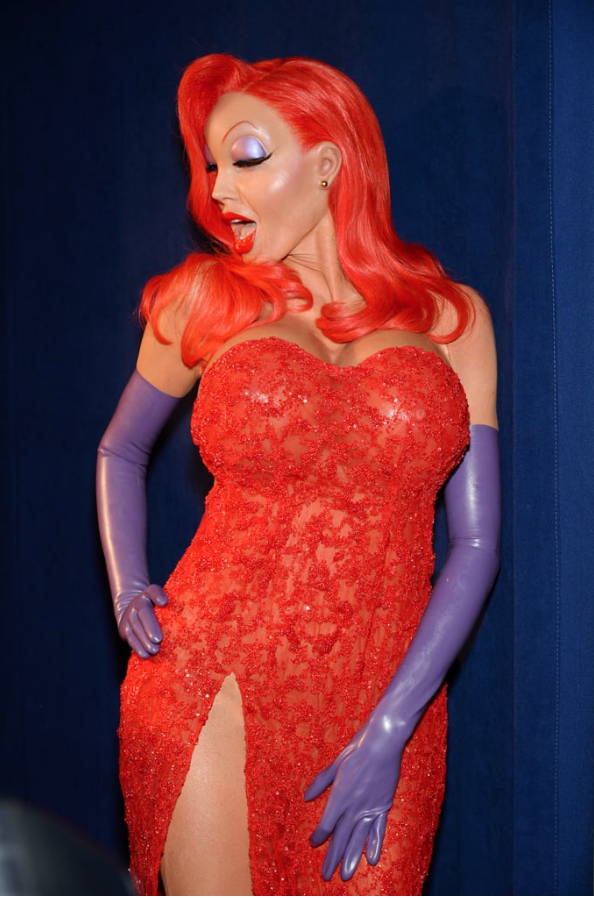 The sexy rabbit costume is one of our favorite halloween costumes, and super easy to do it yourself! Look:
1. Black Swimsuit - you just have to pick your black swimsuit or shop our favorite Year of Ours swimsuit, perfect for this costume!
2. Create a cute bunny ear headband. Twist the tops of two pipe cleaners together, then fold in the two ends and twist them together to create a pointy ear shape with a flat bottom. Repeat with two other pipe cleaners to make your two ears, then hold them up against each other to make sure they're the same size. Use tape to attach them to the headband. Lay a piece of felt or satin onto the ears and cut two pieces around the ear shape, then use hot glue to attach them. Trim off any excess along the sides.
Cut out "inner ears" in a complementary color (gray if your dress is black, pink if your dress is white, black or gray) and glue them onto the fabric with hot glue.
For a fancier look, use a piece of lace for your ears instead of felt or satin.
Don't be afraid to use a lot of tape when you're attaching your ears! You want to make sure they'll stay on as long as you wear them.
3. Make a bunny tail. To add the finishing touch to your bunny onesie, use handful of small white cotton balls, one large cotton ball, or a bunched-up feather boa that matches your chest piece and the insides of your ears. Attach it to the back of your costume using fabric glue and let it dry overnight. For added security, clip it on with a few safety pins once it's dried.
4. Wear tights in case of cold weather (or a pair of black leggings!) Pair your swimsuit with some black or lace tights for a look that's more elegant and warmer.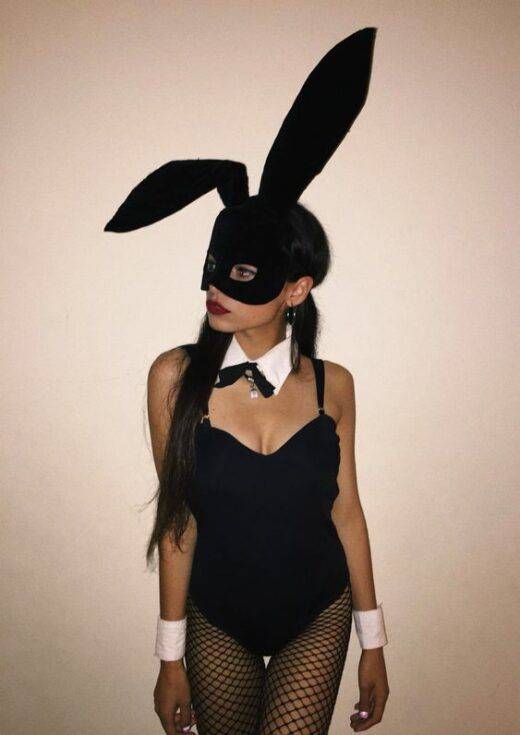 Author SPORT.LES / Published: Oct-18-2019
---
Continue reading