INTERVIEW WITH ANNE - BUBBLE YOGA FOUNDER
INTERVIEW WITH ANNE FROM BUBBLE YOGA

Author SPORT.LES / Published: Nov-7-2019
ANNE (@bubble.yoga), YOGA TEACHER AND FOUNDER OF BUBBLE YOGA (@bubbleyogaspace), INTRODUCES US HER NEW SPACE IN SAINT GALLEN. ANNE, MOUNTAIN LOVER AND WORLD EXPLORER, LOVES TO SHARE AND LIVE NEW EXPERIENCES WITH PEOPLE. THAT'S WHY SHE CREATES A NEW COMMUNITY SPACE FOR DREAM BIG, FLY HIGH AND LAND HAPPY! (AND, OF COURSE, A PLACE WHERE YOU CAN FIND THE BEST ETHICAL ACTIVEWEAR CURATED BY SPORT.LES).
"I AIM TO CREATE A SAFE SPACE FOR OTHERS TO COME & MOVE, TO BE THEMSELVES WITH NO COMPETITION OR JUDGMENT"
What is your go to the fuel in the morning?
I'm an oat-milk hot chocolate girl! Occasional cream on top to make the day special :) I've actually never drunk coffee in my life, my schoggi is where the day starts!
What does a typical day in your week look like?
That's a tough one because my life is divided between Zürich & Appenzellerland so my days are pretty different depending where I am.
My Zürich days are typically filled with yoga classes, meetings in between & social time in the evenings. My mountain home days are more creative, quiet, full of admin work & eventually music or outdoor time in the middle. I can start the day in Zürich teaching in an office, catch breakfast with my best friend setting goals for the week, head over to St. Gallen for a lunch class at Uni, stop by my yoga studio (@bubbleyogaspace) to fix something, chill & check emails, then teach teenagers at the boarding school before my Flow class at Bubble Yoga & heading home for a quiet evening with my love! My days are full of variety & that's what I love about them.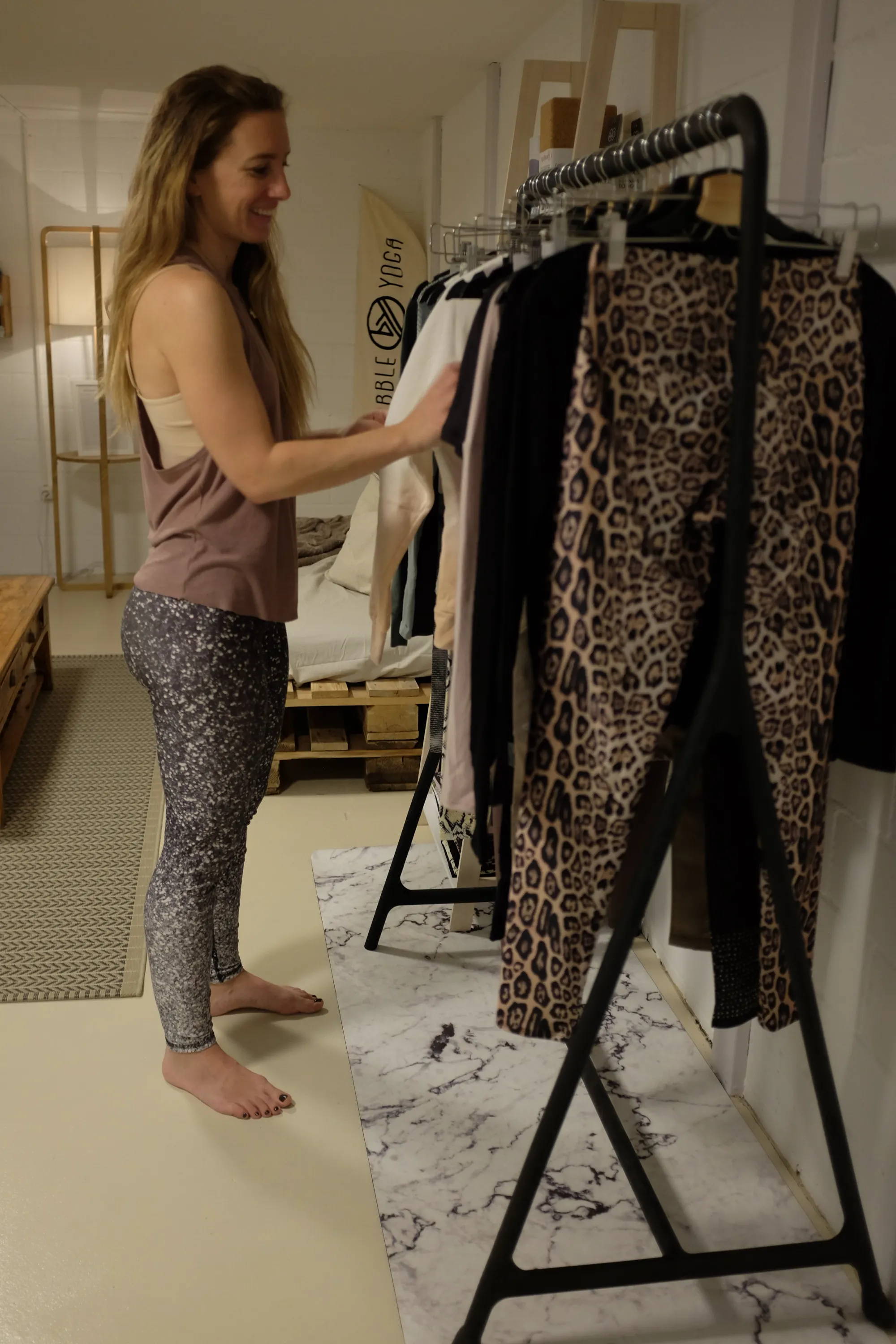 Tell us about your lifestyle: what are your daily fitness routines?
Hmm, there again, quite different depending where I am. I teach yoga almost every day & usually ride my skateboard from one place in the city to the other so there's always movement involved. I'd love to say I do my own yoga & meditation practice every day but that just wouldn't be true. One class a week for myself is my non-negotiable. Daily quiet time is a must though - be it my proper twice a day 20 minutes meditations on the ideal days; alternatively a shorter practice before class to ground down or a yoga nidra before bed if my head is too full.
As much as love yoga, the mountains are my favourite gym & meditation room. Whenever I can I escape to my beautiful backyard (the Alpstein) for some hiking time or paragliding.
Because I move a lot, and not always in the most balanced days, I take care of myself by going to my Traditional Chinese Medicine therapist at least twice a month (it's a game changer - sometimes the yoga is no yoga ;). I'm also a fan of neti pot cleansing practice - clears my head & frees my breath in no time!
How do you think you have impacted the community by teaching?
I guess you'd have to ask the community for that… I aim to create a safe space for others to come & move, to be themselves with no competition nor judgment. I like to show my students what they're capable of, doing it seriously but with a playful approach. I love to foster more connection between people & I am a big time encourager! If anyone that has ever been to my classes, visited my studio or trained with me has felt any of this then I'd say that's how I've had an impact...
What drove you to become a

S.L

ambassador?
Funnily enough I would say that it's because I do not particularly like shopping! Spending hours in stores & accumulating clothes is not my thing so when I found S.L it was all I needed: quality & stylish clothes from well curated brands with the comfort & friendly service of a neighbourhood store. If you wear sport gear all week long, you want something durable & that still goes beyond your classic black pants. I value Community above all so it felt natural to want to support & represent a business I personally love while also bringing great products to my students.
If you weren't a

yoga

instructor, what would you be

doing

?
i've had a 10-year career in international marketing prior to that so I guess I could still be doing that…. But more realistically I'd most likely still be doing something that contributes to people feeling good about themselves: something in the wellness world or owner of a guest house, private event organiser or something? I also take more & more pleasure teaching mindfulness & self-development to young adults or at teacher trainings, so maybe just another type of teaching :)
What 3 things does anyone starting in your industry need to know?
1. Remember the practice that brought you there in the first place! It's easy to drop your practice as you start running around to teach in a million places. Keep practicing what you love, what you teach & get reminded every time about Why you do what you do.
2. It's not all rainbow & unicorns - and that's ok. It can be lonely being self-employed & starting in the industry. Surround yourself with supportive & inspiring people in your community, people you can celebrate the good days with & you can cry & unload to on the grey days as well. #FindYourTribe :)
3. Never stop learning. As much as as I always encourage my students to trust that they know & to be confident in their capacity to share, I believe there is nothing richer than the curiosity to stay inspired & learn every day. Not necessarily just about yoga or meditation, or whatever field they are in the industry, but to not get caught in the label of the "teacher" and foster the beginner's mind of an eternal student.
What have you learned the most from the industry?
That it is easy to become comparative, competitive & individualistic - but that we'll always grow better together. Sometimes it takes me a lot of effort to remember that & not fall into patterns of doubts & fear. But we all have a choice as to how we want to contribute to this industry & make it grow. My choice is to celebrate other's successes & growth, to work hard for mine & to use behaviours that trigger me as engines for "better". I often hear that at the end of the day the yoga world is like any other business world ; I want to disagree & not settle for that. I believe that the philosophy & tools that this practice is based upon can equip us to do better than any other field of business. And so at my modest level, I want to focus on how I can best be of service to my Community, how to partner with people I authentically align with & how to ultimately raise the bar together.
"IT FELT NATURAL TO SUPPORT & REPRESENT A BUSINESS (SPORT.LES) I PERSONALLY LOVE WHILE ALSO BRINGING GREAT PRODUCTS TO MY STUDENTS"
What is the best thing about

owning your studio

?
There's so many great things about it!…
To be able to bring a vision to life, to create a welcoming home for my beloved Community, to have the space to support businesses I love & the see my talented team of teachers share their gifts.
I see it as a space of growth for all of us, a chance to surprise ourselves discovering all the things we can do that we didn't know we could!
What is the perfect pair of leggings?
Day-proof ones that I can wear to yoga, in the streets or in the mountains! I tend to like thicker fabrics & low waist lines, colour-blocked ones that have a little funky detail to them or full-on patterns! It's about balance, right?!
Favorite activewear designer:
Tough one!! I'd say Alo & Onzie for leggings and Varley for the most comfortable yet feminine sports bras. I'm also a Patagonia fan for all things outdoors.
What's in your workout bag?
Well, I usually wear my active gear (hello studio to streets styles!) which makes my life easier! So really my bag just has my water bottle, a comfy hoodie & my go-to essential oils. Oh and my noise cancelling headphones of course!
Continue reading