MEET VARLEY: BEHIND THE BRAND

Author SPORT.LES / Published: Jan-20-2019
FOUND IN OVER 700 STORES WORLDWIDE & WITH HEADQUARTERS SPLIT BETWEEN LONDON AND LOS ANGELES, VARLEY DRAWS INSPIRATION FROM BOTH TO CREATE COLLECTIONS THAT ARE HIGHLY TECHNICAL IN NATURE WITH AN ELEVATED YET UNDERSTATED AESTHETIC. READ HERE OUR NEW BLOG POST AND DISCOVER WHO IS BEHIND THE BRAND AND THE VARLEY'S MUST-HAVE PIECES!
MEET VARLEY CO-FOUNDER LARA MEAD

When Lara Mead was on vacation to Santa Monica, Calif., where women were wearing workout gear to lunch, shop and, yes, work out, Mead -- a longtime athlete and marathon runner -- returned to London with an idea to launch Varley, a simple, affordable athleisure brand, with her now-husband and co-founder. The two didn't let anything get in their way. Here's how.
n 2014, Lara Mead with husband, Ben Mead created Varley, a London-based activewear line inspired by a vacation the couple took to Santa Monica, California. Two years later, the 29-year-old CEO is running her company from offices in London and Los Angeles and has grown it into a full-scale contemporary lifestyle brand. The influence of both cities is visible within the brand, which fuses Californian ease with London style.
The company may be young, but it has experienced explosive growth. Varley is currently carried at more than 150 U.S.
At SPORTLES we are dedicated on working with designers and companies that are ethical in their practices. So, in Varley each collection is co­-designed from different perspectives, which allows them to create versatile pieces where function and style are of equal importance. All fabrics are developed specifically for Varley, and sourced in Italy, to provide the ultimate in support and coverage when working out. Every design is infused with on­-trend elements whether it's in the unique prints, cut­outs or inserts.
1. HOW DO YOU DESCRIBE YOUR BRAND?
Varley is an active brand that takes a performance-first approach to fashion-forward designs. We make good-looking and functional options for the modern woman.
2. YOUR FAVORITE WAY TO EXERCISE

I have several favourites, and mix and match them throughout the week. I love running along Santa Monica Boardwalk first thing in the morning – I love to switch off and watch the world go by as I'm running along. I also love boxing, as it gets all my stress and aggression out before going home. When I'm in London, I work out at the Bulgari Hotel. The gym is set within the most luxurious spa I have ever been to, with the largest indoor swimming pool in London (so I have been told)
3. WHERE THE NAME VARLEY COME FROM?  

My grandmother was a seamstress and she gave me a vintage sewing machine, on the sewing machine was the name VARLEY. The word really resonated with both Ben and I. It sounds strong, active, and looks great.
5. HOW DOES IT FEEL TO SEE YOUR BRAND BEING WORN BY WOMEN ALL OVER THE WORLD?

It's an incredible feeling. I was at my local ice cream shop over the weekend and I saw a woman with her kids walk in wearing VARLEY. She looked incredible and I was overwhelmingly proud.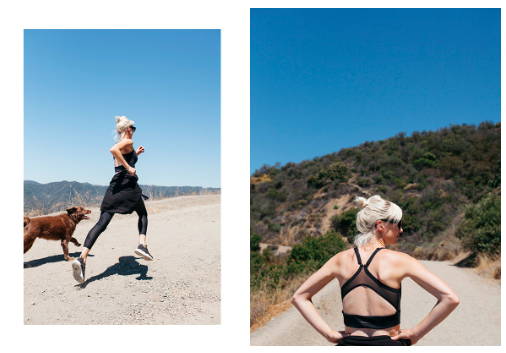 DISCOVER VARLEY NEW COLLECTION

---
Source: Forbes.com + MISSBISH
Continue reading