HOLIDAY WISHLIST: GIFTS THAT I REALLY WANT

HOLIDAY WISHLIST: GIFTS THAT I REALLY WANT

Author SPORT.LES / Published: Oct-30-2020
Oh, the delightful, distracting challenges of the holiday season! As the days grow colder and you need a little cheering up, what could be more diverting than shopping for your girlfriend, your glamorous mom, or your best friends? Oh, of course, working on my gift guides, yes, for me. Like any upstanding, self-respecting shopaholic my picks tend to be things that I want for myself. This gift list is full of things that I just really want -and probably all of us want-. Some of them are fantasy (that awesome CHF1995 Saint Laurent dumbbells) but many are things that would make me really happy – things that I probably wouldn't buy myself … or maybe I would (and will). I do very sneaky things when I'm alone with my business card. My ability to rationalize purchases is totally magical.
What to buy for... the all star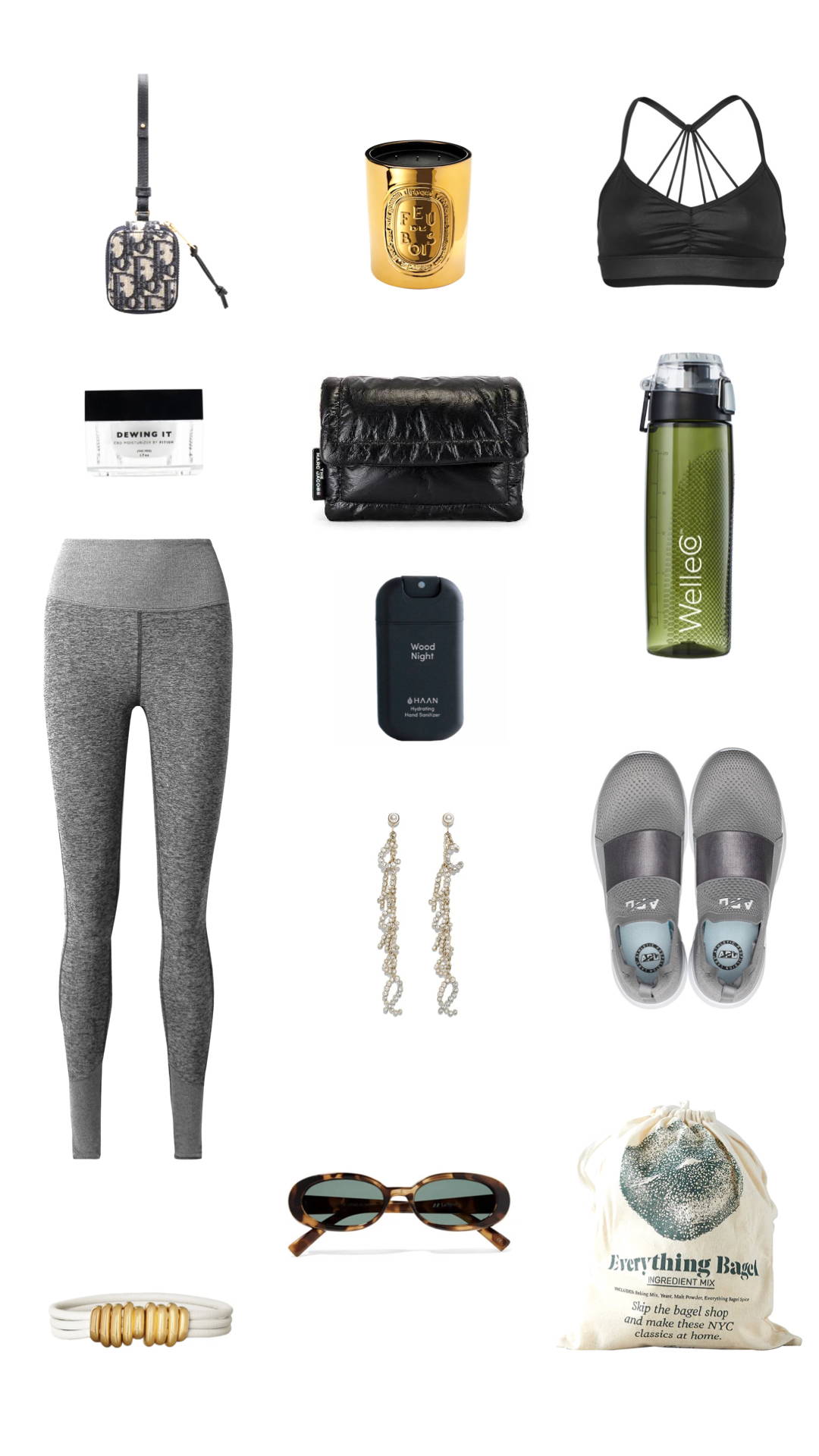 1. Dior AirPods Case Blue Jacquard (CHF224) 2. Feu de Bois Candle Diptyque Limited Edition Gold (CHF108) 3. Alo Yoga Sunny Strappy Bra Black (CHF58). 4. Fitish Dewing It CBD Moisturizer (CHF58) 5. Marc Jacobs The Mini Pillow Bag Black (CHF409) 6. Welleco Hydrator Bottle (CHF 28) 7. Alo Yoga High-Waist Alosoft Lounge Legging Dove Grey Heather (CHF108) 8. HAAN Hand Sanitiser Wood Night (CHF 8) 9. APL Techloom Bliss Cement (CHF218) 10. Chanel Clip-on earrings (CHF1'220) 11. Bottega Veneta Belt in nappa and brass (CHF865) 12. Le Specs Outta Love oval-frame tortoiseshell acetate sunglasses (CHF40). 13. Terrain Everything Bagel Making Mix (CHF25).
One positive upshot of 2020 is the renewed interest people across the globe have taken to fitness. Of course, for the all-star – you know, that friend who's always the first one down a black run or test-driving the latest fitness craze and never fails to squeeze in a morning run – that simply means her regimen has stepped up a notch. This holiday season, appeal to her inner athlete by opting for performance-enhancing activewear that also happens to look fantastic. Case in point, APL Athletic Propulsion Labs' ultra-light tech-loom sneakers. These cutting-edge trainers harness the energy created when your foot pounds the pavement, so you can get the most from every run. Styled with a pair of coordinating leggings and a crop top from Alo Yoga, they also make for a chic off-duty look, ideal for going straight from barre class to brunch -always safe with a HAAN sanitiser in your bag!-.
Self-care Sunday shouldn't be limited to just once a week. Not this holiday. We all have that one friend who takes pampering very seriously, and after a year that has been marred by uncertainty, the self-care queen's dedication to total relaxation should be applauded – and enabled. Help her create a luxurious relaxing home spa with a selection of home accessories like cocktail paper napkins and a mohair blanket and, of course, a comfy loungewear set by Varley and Vaara will score you serious brownie points. However, the key to ensuring a truly blissful night's sleep, not to mention maintaining healthy hair and skin, are the Nue Co. Sleep Drops and the Fitish Body Lotion.
What to buy for... the self care queen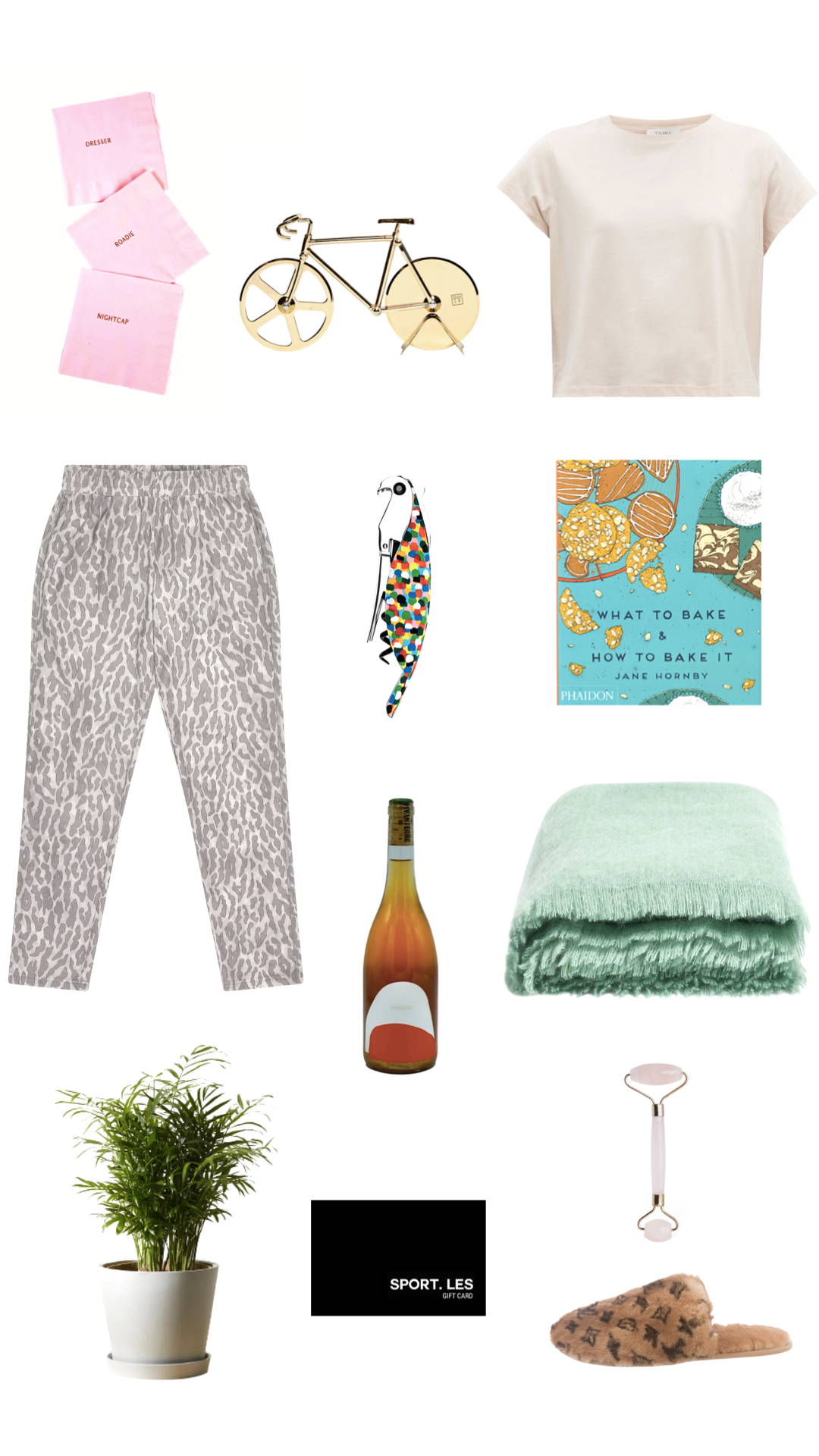 1. House and parties set of 60 Cocktail Paper Napkins (CHF68) 2. Amara Doiy Bicycle Pizza Cutter (CHF 29) 3. Vaara Nadia Box T-shirt (CHF 98) 4. Varley Effie Pant Neutral Leopard (CHF 108) 5. Olivela Alessi Parrot Corkscrew (CHF68) 6. Phaidon What to Bake and How to Bake It (CHF 38) 7. Parcelle Wines Vivanterre SGU Vin de France (CHF 32) 8. Soho Home Alba Mohair Throw (CHF 189) 9. Bloomscape Parlor Palm Plant (CHF 65) 10. SPORT.LES Gift Card (from CHF 25) 11. Sephora Face Roller (CHF 28) 12. Louis Vuitton Suite Mink Slippers (CHF 1'455) 
What to buy for... the fitness conscious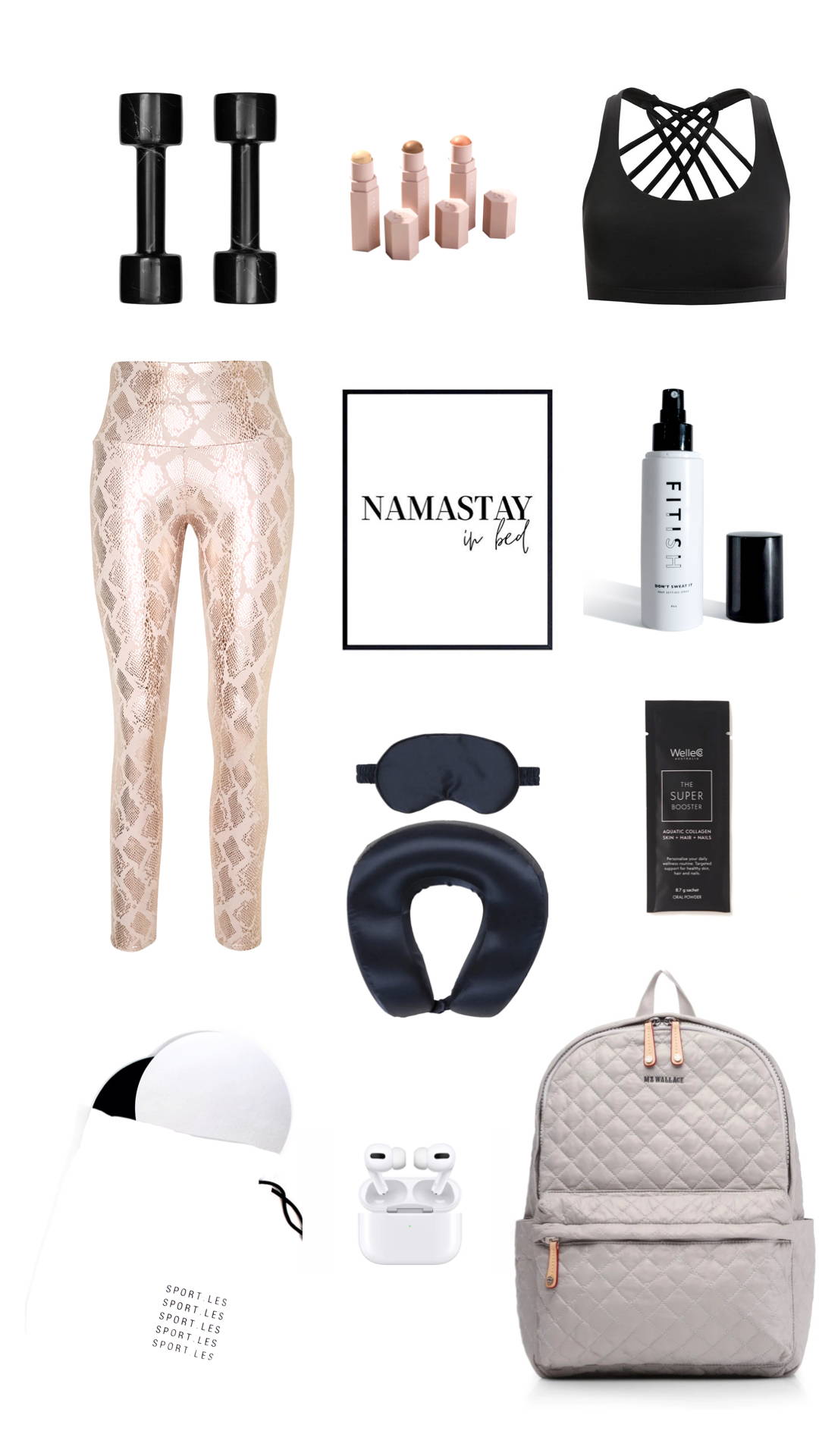 1. Saint Laurent Dumbbells in Marble (CHF 1'995) 2. Fenty Match Stix Trio set (CHF 40) 3. Onzie Chic Bra Black (CHF 58) 4. Onzie Foil Midi Legging Bashful Snake (CHF 98) 5. Namastay in bed poster (CHF 16) 6. Fitish Don't Sweat It Spray (CHF 28) 7. Calpak silk travel neck pillow and eye mask (CHF 98) 8. WelleCo Super Booster Aquatic Collagen Skin + Hair + Nails (CHF 108) 9. LES FIT Sliders Silver (CHF 24) 10. Apple AirPods Pro (CHF 210) 11. Mz Wallace Metro Backpack (CHF 268)
You'd be forgiven for thinking that the desire to live a more sustainable life leaves little room for indulgence – it does, however, demand a little more in the way of legwork. Look for special pieces by labels known for their sustainable practices. The Onzie recycled Chic Bra Black and Foil Snake legging in bashful, both make a faultless addition to any outfit. Don't forget this approach extends to beauty, too, where cult brands such Fitish or WelleCo are developing eco-conscious, high-performance skincare and health products that promise to leave you looking refreshed and rejuvenated. At SPORT.LES we are also developing sustainable gear coming next season – for now our fitness accessories such our LES FIT Sliders are designed in Switzerland.
---
Ski In, Zen Out: 3 Winter Wellness Retreats Curated By SPORT.LES

Author SPORT.LES / Published: Oct-20-2020
Continue reading