5 EASY WEIGHT LOSS LUNCH PREP RECIPES
We give you five healthy meal prep recipes using only fresh ingredients. Breakfast, lunch, and dinner, these are some easy and tasty weight loss meal prep ideas we love. All of the weight loss recipes are big on flavor and easy to make.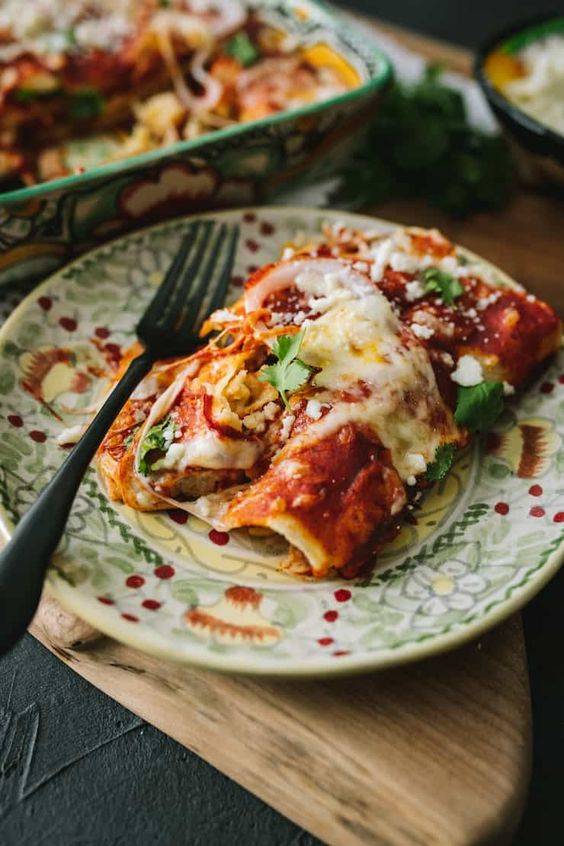 We love Mexican food, but we are always looking for ways to make it more healthy. We "renovated" a dish that we have enjoyed in restaurants to suit our taste and lifestyle.
Ingredients
1 tablespoon olive oil
1 green pepper, chopped
1 medium onion, chopped
3 garlic cloves, minced
1 can (15 ounces) black beans, rinsed and drained
1 can (14-1/2 ounces) diced tomatoes and green chiles
1/4 cup picante sauce
1 tablespoon chili powder
1 teaspoon ground cumin
1/4 teaspoon crushed red pepper flakes
2 cups cooked brown rice
8 flour tortillas (6 inches), warmed
1 cup salsa
1 cup shredded reduced-fat cheddar cheese
3 tablespoons chopped fresh cilantro leaves
Sliced red onion and jalapeno peppers, optional
Directions
Preheat oven to 350°. In a large nonstick skillet, heat oil over medium heat. Add green pepper, onion and garlic; saute until tender. Add next 6 ingredients; bring to a boil. Reduce heat; simmer, uncovered, until heated through. Add rice; cook 5 minutes longer.
Spoon a rounded 1/2 cup of rice mixture down center of each tortilla. Fold sides over filling and roll up. Place seam side down in a 13x9-in. baking dish coated with cooking spray. Spoon remaining rice mixture along sides of dish. Top tortillas with salsa. Bake, covered, for 25 minutes. Uncover; sprinkle with cheese. Bake until cheese is melted, 2-3 minutes longer. Sprinkle with cilantro and, if desired, onions and jalapeños.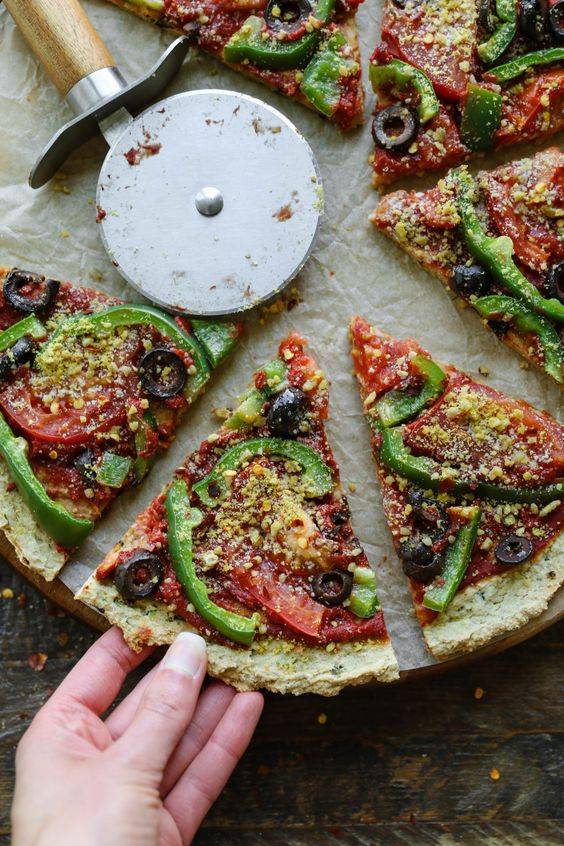 We have shared the recipe for this unique pizza with you. It's just right for brunch, lunch or a light supper. Loosen the nutritious zucchini crust from the pan with a metal spatula.
Ingredients
2 cups shredded zucchini (1 to 1-1/2 medium), squeezed dry
1/2 cup egg substitute or 2 large eggs, lightly beaten
1/4 cup all-purpose flour
1/4 teaspoon salt
2 cups shredded part-skim mozzarella cheese, divided
1/2 cup grated Parmesan cheese, divided
2 small tomatoes, halved and sliced
1/2 cup chopped red onion
1/2 cup julienned bell pepper
1 teaspoon dried oregano
1/2 teaspoon dried basil
Chopped fresh basil, optional
Directions
Preheat oven to 450°. In a large bowl, combine first 4 ingredients; stir in 1/2 cup mozzarella cheese and 1/4 cup Parmesan cheese. Transfer to a 12-in. pizza pan coated generously with cooking spray; spread to an 11-in. circle.
Bake until golden brown, 13-16 minutes. Reduce oven setting to 400°. Sprinkle with remaining mozzarella cheese; top with tomatoes, onion, pepper, herbs and remaining Parmesan cheese. Bake until edges are golden brown and cheese is melted, 10-15 minutes. Sprinkle with chopped fresh basil, if desired.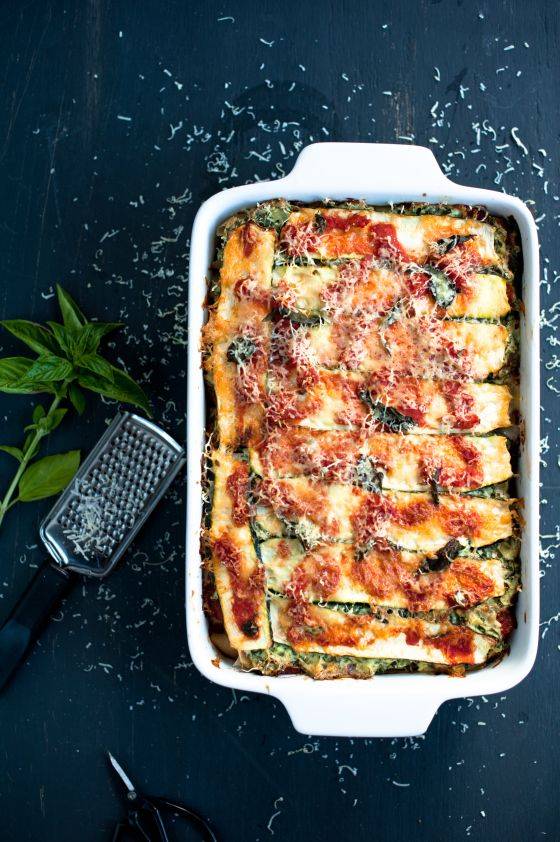 Ingredients
600g butternut pumpkin, unpeeled, thinly sliced

Olive oil cooking spray

2 large zucchini, peeled into ribbons
1 tablespoon extra virgin olive oil
1 brown onion, finely chopped
3 garlic cloves, crushed
250g lean beef mince
1/2 teaspoon ground cinnamon
1/2 teaspoon ground allspice
1/3 tomatoes (not in oil), roughly chopped
410g can crushed tomatoes
1 cup dried red lentils, rinsed, drained
2 tablespoons finely chopped fresh oregano leaves
250g tub smooth low-fat ricotta
1 egg, lightly beaten
1/2 cup finely grated parmesan
1/4 cup natural seed mix with pine nuts, toasted
Directions
Preheat oven to 200C/180C fan-forced. Line 2 large baking trays with baking paper.
Place pumpkin, in a single layer, on trays. Spray with oil. Roast for 10 minutes or until just tender. Transfer to a plate. Place zucchini, in a single layer, on trays. Spray with oil. Roast for 5 minutes or until just tender.
Meanwhile, heat oil in a large, heavybased saucepan over medium-high heat. Add onion. Cook, stirring, for 5 minutes or until onion has softened. Add garlic. Cook for 1 minute or until fragrant. Add mince. Cook, breaking up lumps with a wooden spoon, for 6 minutes or until browned. Add cinnamon, allspice, sundried and crushed tomatoes, lentils and 2 1/2 cups water. Bring to the boil. Reduce heat to medium-low. Simmer, partially covered, for 10 minutes. Uncover. Cook for a further 10 minutes or until lentils are tender and mixture is thick. Remove from heat. Stir in oregano.
Combine ricotta, egg and 1/2 the parmesan in a bowl. Season with salt and pepper.
Grease a 6cm-deep, 21cm x 26.5cm (top), 8-cup-capacity baking dish. Spoon 2 cups mince mixture over base of pan. Spread with 1/2 the ricotta mixture. Top with 1/2 the pumpkin and 1/2 the zucchini. Top with remaining mince mixture, ricotta mixture, pumpkin and zucchini. Sprinkle with remaining parmesan. Season with salt and pepper. Cover with baking paper, followed by foil. Bake for 20 minutes. Remove foil and baking paper. Bake for a further 10 to 15 minutes or until golden. Stand for 10 minutes. Serve sprinkled with seed mix.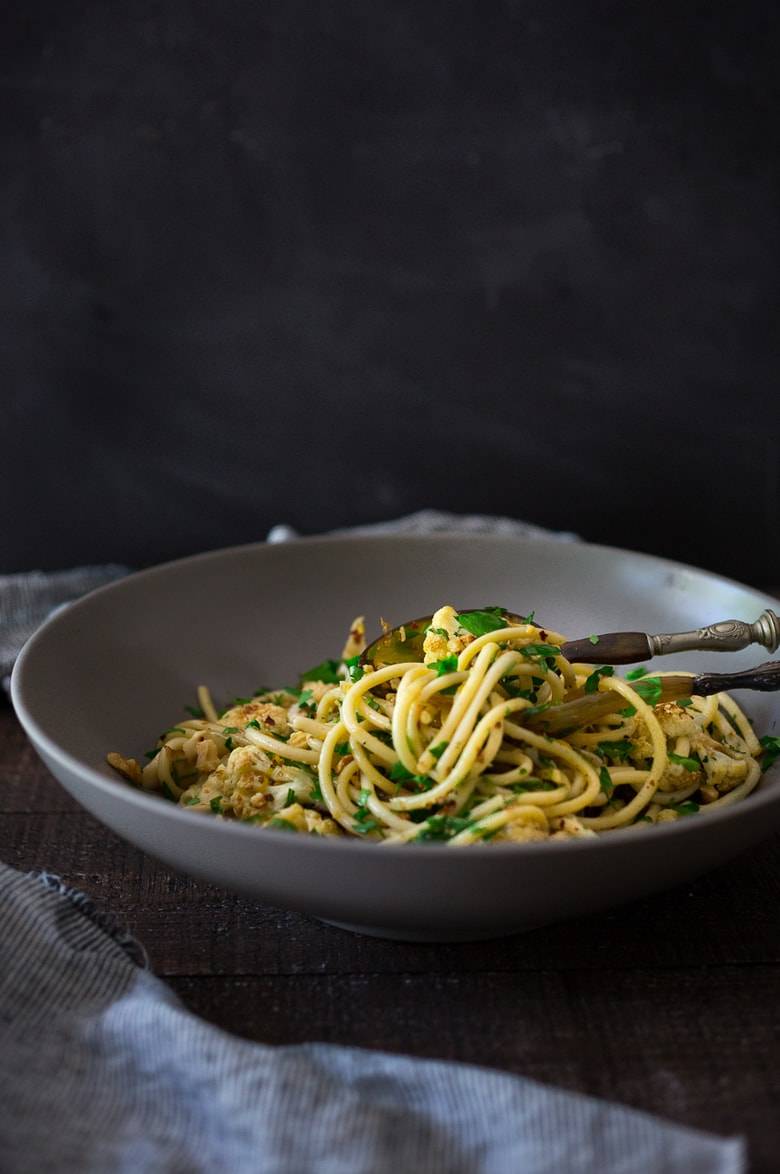 Healthy pasta? You better believe it! The roast cauliflower in this veggie pasta gives it a nutrient and flavour super-boost.
Ingredients
1

head cauliflower
2 tablespoons olive oil
3 minced garlic cloves (divided)
 salt and pepper to taste

1/4 teaspoons

chili flakes
lemon zest from one lemon (divided)

4 ounces

pasta ( bucatini, linguini, spaghetti or any other gluten-free noodle)

1 cup

fresh chopped Italian parsley

1/2 cup

toasted walnuts, chopped

1

fresh garlic clove- very finely minced
A generous drizzle of olive oil to coat,
salt, pepper and chili flakes -to taste
finely grated pecorino– optional but good

2 tablespoons

 capers– optional, but good!
Directions
Preheat oven to 425 F
Trim and cut cauliflower into small bite-sized florets and place in a bowl. Drizzle with olive oil to coat, sprinkle with salt and pepper, 1/2 of the lemon zest, 2/3 rds of the minced garlic and some chili flakes. Toss well and spread out in a single layer on a parchment-lined sheet pan, and place into the middle of the hot oven. Roast until tender and golden and caramelized in places, about 20-25 minutes.
While the cauliflower is roasting, cook the pasta according to directions. Drain and place in a bowl. Drizzle pasta generously with olive oil to coat the noodles, then add the remaining finely minced garlic (raw), the chopped parsley, remaining lemon zest, crushed toasted walnuts, capers and when cauliflower is done, add it to the bowl and toss. Sprinkle with pecorino and chili flakes.
Taste, adjust salt and pepper and add more if necessary. If it tastes bland, it probably needs a little more salt. 😉
Divide among 2-3 bowls.
Shrimp lettuce wraps loaded with fresh veggies and juicy shrimp. The peanut sauce is exceptional and surprisingly simple. Lettuce wraps are a low carb, healthy dinner idea and they always disappear fast!
Ingredients
1 head butter lettuce or romaine lettuce hearts
¼ c. low-sodium chicken broth
1 Tbsp hoisin sauce
½ Tbsp low-sodium soy sauce
1 tsp rice vinegar
¼ tsp Asian sesame oil
1 1/2 tsp chili garlic sauce
½ tsp cornstarch
1 Tbsp canola or avocado oil divided
30 grams cashews little less than ¼ cup, coarsely chopped
6 oz shrimp deveined & cut into small cubes
1 large garlic clove minced
1/2 large red bell pepper seeded and diced
3 green onions the white and green parts, sliced
⅛ c. chopped cilantro
1 carrot shredded or cut into thin strips
Directions
Divide the lettuce into leaves and set aside.
In a small bowl, whisk together the chicken broth, hoisin sauce, soy sauce, rice vinegar, sesame oil, chili garlic sauce, and cornstarch. Set aside.
In a medium skillet, heat ½ Tbsp canola or avocado oil over medium-high heat until almost smoking.
Add the shrimp and stir-fry until browned. About 2 minutes. Transfer the shrimp to a plate and discard any juices from the pan.
In the same skillet, heat the other ½ tablespoon of oil over medium-high heat.
Add the garlic, bell pepper, green onions, and carrots.
Stir fry until tender-crisp, about 2 minutes.
Return the shrimp to the pan and add the cashews and cilantro. Add the soy-sauce mixture and stir-fry until the shrimp is thoroughly cooked. About 3 minutes.
Spoon the shrimp mixture evenly onto lettuce leaves.
Continue reading