NEON LEGGINGS: HOW TO WEAR THEM
NEON YELLOW LEGGINGS? YES PLEASE!
Author SPORT.LES / Published: Sept-28-2019
JENNIFER LOPEZ, BLAKE LIVELY, KIM KARDASHIAN ... ALL CELEBRITIES WEAR THE COLOR THAT WILL BE A COMPLETE TREND THE UP COMING SEASON: NEON. SPORT.LES ALWAYS IS ON THE TOP-TREND AND THAT'S WHY WE BRING YOU THE NEON LEGGINGS, NEON SPORT BRAS AND NEON SWEATSHIRTS THAT YOU'LL LOVE.
Most of us haven't gone near neon since freshers' week, however, there are ways you can wear acids and not look like you're lost on the way to a bar crawl. The SPORT.LES way to wear neon is to mix yellow neon with white Moto Leggings or Sparkle Leggings. Add an extra with printed sweatshirts, which can be easily mixed in with more minimal pieces, like bike shorts or black sweatpants. If you want a more maximalist approach however, this color palette also works with other 2019 trends, such as camouflage or animal print. You can find these items at our activewear premium edits URBAN JUNGLE and BEST SELLERS.
Jessica Minkoff with neon top. Hola Spain
Jennifer López with neon sport bra, bondage leggings and white top. Pinterest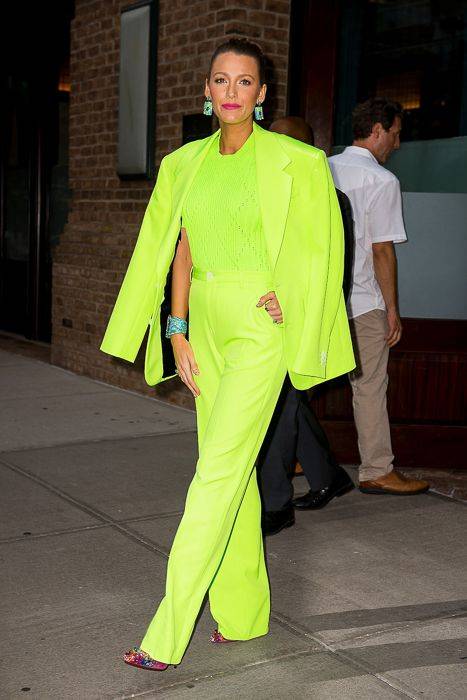 Blake Lively in full-neon outfit. Pinterest
Kim Kardashian with sparkle cycling leggings, crop top and neon jacket. Pinterest
If you are looking for more items like these, check our High Intensity New Collection, an edit full of head-turning activewear pieces from designers such as Alo Yoga, Heroine Sport and No Ka'Oi:
Continue reading